The first map test will be: World Continents & Bodies of Water on Friday, 8/18/23.
Here is the website for the study game:
World Continents & Bodies of Water. Enjoy!
If you would like to print out a BLANK MAP to use for practice, you will find one at THIS LINK.
Start studying BEFORE Thursday night!!!
Welcome to Geography for the Fall 2023 Semester!
Required Materials for this semester are – Due – Monday (8/7/23):
Single-subject Composition Notebook
(to be used ONLY for CNN10 in Geography Class)
Colored Pencils
Earbuds/Headphones
Additional Recommended Materials:
Blue or Black Pens or Pencils
Loose leaf paper
3-ring Binder
Highlighters
The syllabus for this semester follows:
Geography Syllabus F2023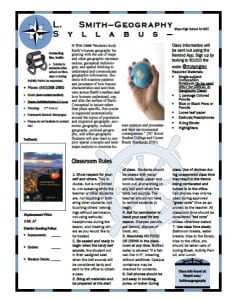 Please email Mrs. Smith with any questions you may have.
I look forward to making this the best year EVER!